The third-annual Summit Music Festival lineup has just been announced!
Taking an ode back to the "Warped" days will feature acts A SKYLIT DRIVE, JONNY CRAIG, THE BUNNY THE BEAR, PICTURESQUE, BROJOB, VAMPIRES EVERYWHERE to name a few.
Also, the event will see acts such as FDS, The Phoenix Within, Chin Up Kid, I Fight Fail, Ash Hollow, Featherweight, and Southbound Beretta.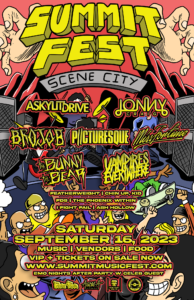 Over 14 different Vendors will be on-site, including a new addition Tattoo Booth available to get your own unique art (per appointment), and numerous Food Trucks featuring other cuisine options.
The event kicks off at 2 PM and will wrap up featuring a Celebrity Guest DJ/Performance for the "Emo Nights" Afterparty.
It's being held at the Summit County Fairgrounds indoor arena located in Akron, Ohio.
Tickets and more information are available at www.summitmusicfest.com